More Than Ink on Paper
A well-engineered container is just the beginning. Print is the finishing touch!
Print is a critical part of a complete packaging solution.
The colors selected and the intensity in which they are presented all help to identify and differentiate companies and their products.
Graphics are the face of a product in the marketplace . . . the first things people notice. They also help inform and educate consumers.
Which print option is best for you?
Package printing can be done before or after combining into finished board. When done before combining, it is called preprint. When done after, it is referred to as direct print.
Choosing which print method is right for your packaging solution all depends on your specific needs for product appearance, use and performance. Quantity and budget are also considerations when selecting the right print solution.
Direct Print Flexography
Ink is printed directly onto the outside white or kraft liner of combined corrugated sheets. One to seven colors can be printed in one pass, including four-color process (CMYK).
Direct print flexography produces low to medium resolution and is suitable for all quantities.
Direct Print Digital
Inkjet is printed directly onto various substrates up to 1 inch thick. This is an 8-color process able to produce 90% of spot colors with close accuracy.
Digital direct printing produces medium resolution and is ideal for small quantities.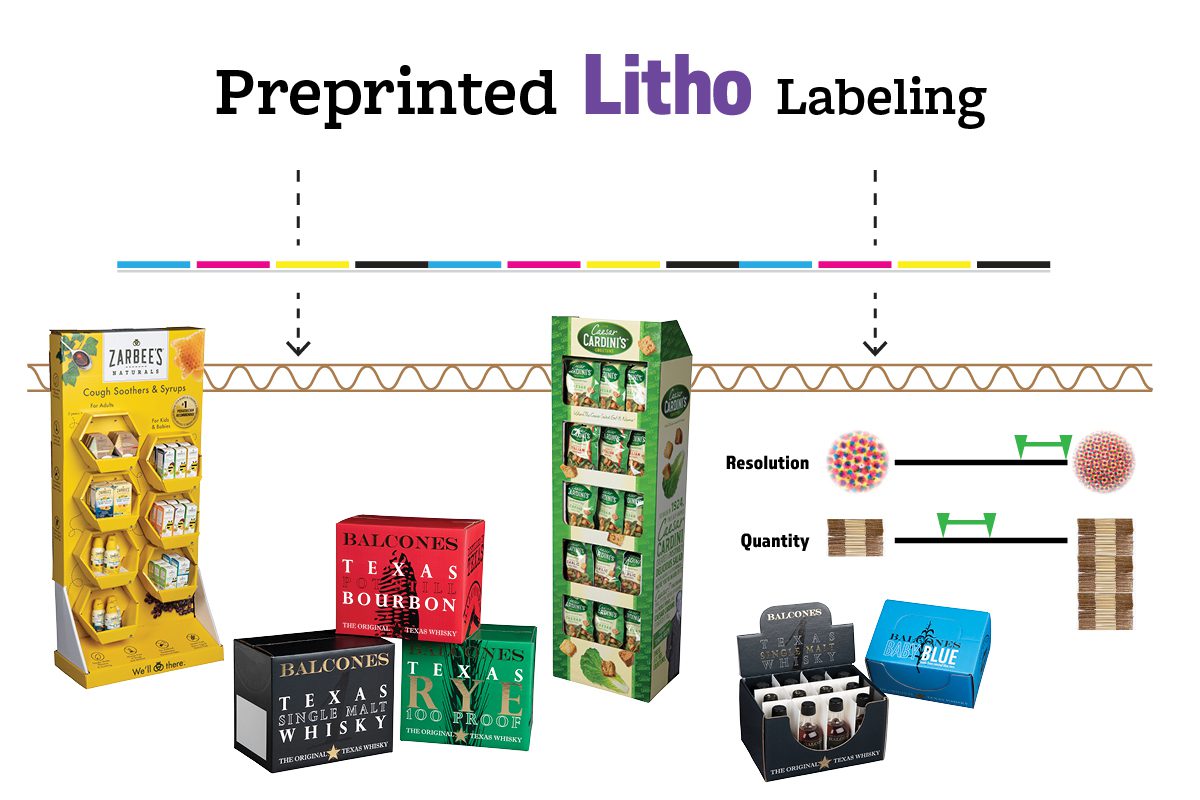 Preprinted Litho Labeling
Graphics are printed onto full-size or smaller paper using offset lithography. This paper is then applied to already-combined corrugated sheets. This method allows for seven-color printing, coating (aqueous and UV) and foil stamping.
Litho labeling is ideal for medium-size quantities that require high-resolution graphics.
Preprinted Litho Lamination
Graphics are printed onto full-size sheets using offset lithography. The sheets are then laminated onto singleface corrugated. It can incorporate seven-color printing, coating (aqueous and UV) and foil stamping.
Litho lamination is well suited to a wide range of quantities and yields high-quality graphics.
Flexo Preprint
Graphics are applied to a continuous roll of linerboard using flexographic printing. This printed roll is then laminated onto singleface corrugated. It is a higher-quality four-color process (CMYK) and allows for up to three additional spot colors in one pass.
Flexo preprint is best suited for high-volume applications that require medium to high resolution.
Print considerations include:
Quantity

Cost

Color

Quality

End Use
Print is more than ink on paper — it's expertise!
PCA has the versatility to match your needs to the right print solution, with quality built in from start to finish.